Accreditation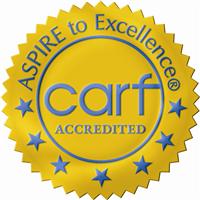 Edmond Family Counseling has licensed therapists and is accredited by CARF, the Commission on Accreditation of Rehabilitative Facilities. CARF accredits EFC for:

Outpatient Treatment: Integrated: AOD/MH for Adults, Children and Adolescents.

CARF accreditation is a public seal of trust and commitment to quality based on internationally accepted standards. Achieving this accreditation demonstrates Edmond Family Counseling's commitment to exceptional, personalized care. An organization receiving the highest level of CARF accreditation has undergone a detailed peer review process and has demonstrated to a team of surveyors, during an on-site visit, its commitment to providing programs and services of the highest quality. For more information on CARF, visit www.carf.org.